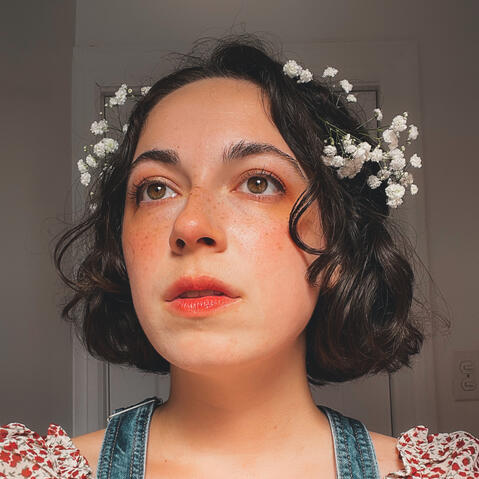 myelasticheart
Literal girl on fire & human bendy straw trying to make the world more accessible.
Britt | she/her | @myelasticheart
[email protected]
My Elastic Heart
Welcome! i'm Britt L. Belwine, also known as myelasticheart. i'm a disabled activist, content creator, and law student living with chronic illness and living for disability justice! i pursue many avenues to educate folks about disability issues, including public speaking, social media, access workshops, and freelance sensitivity reading. i am passionate about bringing an intersectional lens to my work and creating a more accessible future for all.To hire me for trainings, speaking events, or access consultations, please see the "Inquires" page or contact me via email.
Quick Links
Resources
Use the links below to access information about various social justice issues, find scripts to call your representatives, and more! If i mentioned a "link in the bio" you're probably looking for this section. :)
Support My Work
My content will always be free but if you'd like to support my work, you can book me (click "Inquiries" to learn more) donate to my Ko-Fi, or send a donation via Cashapp ($myelasticheart) or Venmo (@brittplease)
About
i live with Ehlers-Danlos Syndrome and Complex Regional Pain Syndrome, and currently live in Chicago! My background is in medical anthropology, human rights, and organizing. i've led workshops on accessibility, ableism, and disability; been an access consultant for small businesses; and spoken to classes about disability and creating access. To hire me or book my services, visit the "Inquiries" page.
When i'm not dreaming up ways to educate folks about disability and accessibility, i am a student of abolition and aspiring law student. i'm particularly interested in the intersection of disability and incarceration and have extensive experience working with current and formerly incarcerated folks.i've shared my experiences and advocacy in publications including CNBC, NBC, Radio France, & Refinery 29.In my free time, i enjoy crocheting, spoken word poetry, and making far too many Spotify playlists. i am a big fan of sunflowers, public transit, and postcards.
FAQ
What conditions do you have?
i have Ehlers-Danlos Syndrome (non-vascular type) and Complex Regional Pain Syndrome.How old were you when you were diagnosed?
i was diagnosed with EDS at 13 and CRPS at 19.How did you develop CRPS?
i developed CRPS after a major knee dislocation caused by my Ehlers-Danlos.What treatments do you receive?
i currently get lumbar sympathetic blocks for my CRPS and attend physical therapy for my EDS. i don't take any pain medication.Have you thought about a spinal cord stimulator?
While i know spinal cord stimulators have been quite helpful for some folks with CRPS, i had a few friends who had very negative experiences and that's made me very hesitant to consider one. My lumbar blocks work for me, so that's the treatment plan i want to stick to.What about amputation?
Amputation isn't well studied in the CRPS population but in some cases has been shown to make the pain worse. For me, it's not worth the risk to find out.Have you tried yoga/keto/paleo/going vegan/thinking positive/sacricifing a bottle of virgin olive oil during a blood moon?
Don't you think chronically ill folks have tried just about everything possible to make our pain better? And for the record, no, none of that is going to cure my incurable chronic illnesses.[Insert comment about EDS or CRPS not being rare/real/etc]
Thanks for your input. You're not my doctor.Can i ask for your advice about ____?
You're welcome to, but please keep in mind that i can only speak from my own experiences and i am NOT a medical professional!Can you help me with this legal problem?
As a law student, i am not permitted to give legal advice, and nothing i post online should be construed as such.Can you help make my school/business/etc. more accessible?
i'm happy to offer advice! i also lead workshops and trainings for schools, professors, small businesses, and organizations on accessibility and disability - you can hire me to lead one for you!i think i might have EDS/CRPS, what should i do?
Talk to a doctor you trust! Be honest about what you're experiencing and why it concerns you.What language is appropriate to use when it comes to disability?
i can't speak for everyone, but best practices recommend using "person with a disability" or "disabled person!" Remember that disabled is not a dirty word, it's a word that captures our lived experience and the social/cultural history of our community. When in doubt, ask individuals what they prefer and respect their preferences.
Inquiries
i'm always excited to partner with folks to create a more accessible world! Here are a few of the things i've been hired to do in the past:•Workshops/Trainings - i've led workshops on ableism, creating access, and disability as well as trained staff and professors on ways to engage with people with disabilities, disability justice, and accommodations.
•Accessibility Consultant - i have worked with small businesses to identify barriers to access and make their spaces more accessible to people with disabilities. i have also assisted in university planning around accessibility and accommodations.
•Public Speaking - i have spoken to university professors, classes, and companies about disability justice, the experiences of disabled folks, chronic illness, accommodations, and adversity.
•Sensitivity Reader - i've partnered with authors and publishers to read manuscripts, both fiction and nonfiction, that feature disability and chronic illness as a central topic to ensure accuracy and sensitivity.If you're interested in booking me for an event or a freelance opportunity, or would like to get in touch with me for an interview, study, or other opportunity, please do so via email.
Media Mentions
•Al Jazeera AJ+'s "Subtext"
•Yahoo! News "In the Know"
•Rolling Stone
• Refinery 29
•Radio France
• Mercury News
• Speaking Human First Podcast
Tell LACCD to Drop The Petition
For a more in-depth explanation about Payan v. LACCD, the case history, and what's at stake, check our this great primer from the Disability Rights Education & Defense Fund. Then, choose your own adventure by calling and/or emailing officials at LACCD using the following scripts. Be sure to fill in names and to change the bolded WE/THEY into one or the other.
IMPORTANT: Feel free to adjust the scripts or add additional information, but DO NOT harass, insult, or demean the folks you are contacting. We want to encourage them to hear our voices and remind them that the great work they're already doing could be overshadowed by this case. Please be polite and remember there is a human being on the other end of the phone/screen.
WHO TO CONTACT
Office of Chancellor Francisco Rodriguez: (213)-891-2201; email [email protected] or [email protected] ATTN Chancellor Rodriguez,
or click here to message
Deputy Chancellor Melinda Nish: [email protected]
Office of the Board of Trustees: (213)-891-2044 or click here to message
Office of the Legal Department: (213) 891-2188
Script to Call
Hi, I'm calling to leave a message for [INSERT THEIR NAME]. (Wait for a response before continuing).
My name is [YOUR NAME] and I am calling to urge LACCD to drop their petition to the Supreme Court in the Payan v. LACCD case. If it is heard before the Supreme Court, this case could reverse decades of disability rights that were fought for by disabled activists who put their bodies and lives on the line in order guarantee access to education and public life. LACCD is arguing that the only legal protections guaranteed to people with disabilities is intentional discrimination - but much of the discrimination WE/THEY face is unintended to exclude US/THEM.Buildings don't have ramps or elevators because stairs are the standard, websites and apps are not designed with alt text and screenreader capabilities in mind, and conferences are held without captions because nobody stops to think a Deaf academic may be attending. None of these examples meant to exclude disabled people, just as I know LACCD was not trying to exclude blind students from accessing education, but nevertheless the end result is discrimination.LACCD and Los Angeles as a whole has a long history of supporting disability rights and the disability justice movement. Pursuing this case will cast a shadow on all of that work. Please don't let LACCD go down in history as the institution that dismantled the Americans with Disabilities Act in the midst of a global pandemic, when disability rights are more important than ever. I hope you'll take this opportunity to do the right thing and drop the petition.Thank you, and take care.
Script to Email
SUBJECT: Drop The Petition in Payan v. LACCD
Dear [insert name],I am writing to urge LACCD to drop their petition in the Payan v. LACCD lawsuit. This case, if it is heard before the Supreme Court, has the potential to undo decades of progress in disability rights and effectively dismantle the Americans with Disabilities Act. If the Court rules that the only legal protections people with disabilities have are against intentional disparate treatment, there will be virtually no legal grounds for disabled people to fight for their rights. Much of disability discrimination is in fact unintentional disparate impact - buildings with no ramps because stairs look nicer, conferences with no captions because nobody thought a Deaf academic would be present, and website without alt text and screenreading capabilities because the coders didn't know how to create them. In these examples, no person is attempting to specifically exclude disabled people, but nonetheless WE/THEY experience discrimination. Each example excludes US/THEM, and denies US/THEM access to public life, to community, and to connection.In this particular case, students at LACCD were denied accessible materials for their education. While LACCD was not intentionally trying to prevent these students from participating in a class or continuing their education, the result was still exclusion, discrimination, and a lack of access.LACCD is the largest community college district in the country. It's gone above and beyond to make education affordable and accessible to as many people as possible, and Chancellor Rodriguez has made diversity and inclusion a core commitment. Why then is LACCD pursuing this litigation when the result could be so disastrous a whole community of people striving simply to be included? If the ADA is weakened by the Supreme Court, this will be a terrible mark on the reputation of LACCD, and the greater LA community, whose names will forever be associated with the court case that dismantled disability rights - a movement that was in fact born in California. From the innovative support organizations in Berkeley to the Section 504 protests in San Francisco, to the famous Walk of Shame protests for curb cuts in Hollywood. Los Angeles is home to DEAFestival, an annual celebration of the deaf community, as well as the Coelho Center for Disability, Law, Policy, and Innovation at Loyola Marymount Law School; and LACCD even sponsors an annual Disability Summit to share strategies for making higher education more accessible. If Payan v. LACCD goes before the Supreme Court, all that history will be overshadowed by the devastating loss for the disabled community.To learn more about the potential harms of this lawsuit being heard before the Court, I encourage you to visit the website of the Disability Rights Education & Defense Fund.Please, don't risk erasing decades of disability history that was so hard-fought. Disability rights activists have had put their lives and bodies on the line to be granted access to education, to healthcare, to job opportunities. WE/THEY have fought time and time again to be seen, heard, and valued in this world. WE/THEY know that anyone could become disabled at any point, and that we all benefit from a more accessible world. The ADA, and the disability justice movement, is needed now more than ever at a time when thousands of Americans are developing disabilities due to COVID-19. You have an opportunity to be on the right side of history, and to leave a legacy for LACCD as a champion of disability rights. Please, drop the appeal.Sincerely,
YOUR NAME HERE